SKYTECH is a rising star in French Greentech, a laureate of the France Relance program, and a beneficiary of support from ADEME and the Investments for the Future program (PIA).
Our teams have developed an innovative process to regenerate the complex hard plastics found in bumpers, vacuum cleaners, coffee machines and phone shells for example (WEEE): ABS (acrylonitrile butadiene styrene), PS (polystyrene) and PP (polypropylene).
Our ambition is to become one of Europe's leaders in engineering plastics regeneration and to contribute to the emergence of a true circular economy in the plastics industry.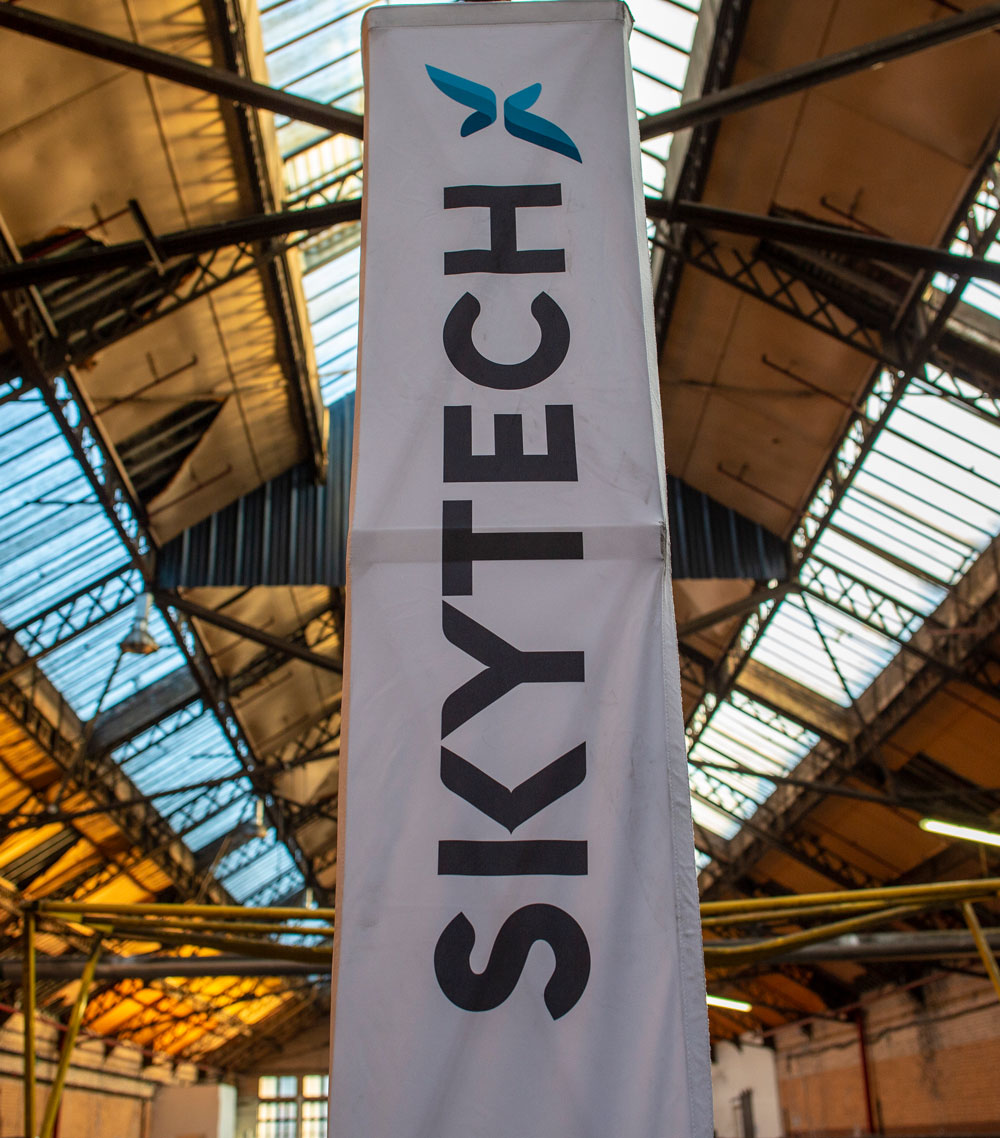 WE ARE INNOVATING FOR A
CIRCULAR, RESPONSIBLE AND SUSTAINABLE ECONOMY
Incorporated in 2018 following a research and development phase conducted with the support of ADEME, SKYTECH is wholly owned by French private equity firm, Xerys Invest. SKYTECH wants to enable a new sustainable plastics industry that cares about its impact on the planet and contributes to a fully circular economy.
Headed by Christophe Lamboeuf, CEO, SKYTECH has more than 60 employees.
OUR

PREMIUM QUALITY

REGENERATED GRANULES
SKYTECH produces granules made from 100% recycled plastic waste from end-of-life vehicles (ELV) and electrical and electronic equipment (EEE) on an industrial scale. In 2021, Skytech had produced and sold more than 5,000 metric tons of regenerated plastics.
These ready-to-use granules (ABS and PS) are custom formulated according to the needs of our customers in manufacturing and specialty plastics, and have properties similar to those of virgin resins.
SKYTECH aims to achieve production of 35,000 metric tons by 2023.
SOLUTIONS FOR
EVERY INDUSTRY
AUTOMOTIVE INDUSTRY
We give new life to plastics from end-of-life vehicles and support the automotive industry in its end-of-life product recycling targets.
HOUSEHOLD APPLIANCES INDUSTRY
SKYTECH recycles all types of plastic casings or parts from household appliances.
BUILDING AND CONSTRUCTION INDUSTRY
We provide the building and construction industry with supplies and materials that meet building codes.
LUXURY AND DESIGN INDUSTRY
SKYTECH assists many luxury and design industrials in the implementation of new anti-waste standards that aim to increase the incorporation of recycled plastic in packaging.
HI-FI AND TELECOMMUNICATIONS INDUSTRY
We are able to design recycled plastic Internet boxes and eco-designed remote controls.
OTHER INDUSTRIES
Our granules are also used to manufacture a wide range of products such as packaging, displays, bonding parts, etc.
WE SUPPORT OUR INDUSTRIAL CUSTOMERS WHO USE PLASTICS IN THE IMPLEMENTATION OF THEIR ENVIRONMENTAL AND SOCIETAL COMMITMENTS
OUR UNIQUE, PATENTED AND
ENVIRONMENTALLY FRIENDLY PROCESS
We sort the shredded plastics from waste from end-of-life vehicles and WEEE using triboelectricity to isolate the different types of plastics (ABS, PS and PP)
Once separated, the resins (ABS and PS) are transformed into high quality granules with technical characteristics that stricly comply with the specifications from our customers. SKYTECH also offers filled PP (polypropylene), obtained after separation (not granulated, ground only)
SKYTECH process is environmentally friendly:
It allows us to separate plastics without solvents, without water and consumes little energy. The premium granules produced by SKYTECH have a very low carbon footprint and extend the life cycle of the plastic.
WE ARE

RECRUITING TALENT COMMITTED TO THE

CIRCULAR ECONOMY
At SKYTECH, we are committed to helping the planet by offering a clean and sustainable solution for a fully circular economy. Our teams are also proud to contribute to the development of a greentech rising star aiming to become a European leader in premium regenerated plastics.
We will be doubling our workforce by 2023, and are looking for intellectually curious, dynamic individuals who are passionate about innovation and committed to sustainable development.